The happy ending for this story will someday soon be written on a sandy beach, with 15 years old Kunal enjoying the wind in his hair, the waves around his knees and the salt on his lips. That's the first place Kunal wants to visit once he successfully fights Ewing's Sarcoma. And Moumita, his dedicated nutritionist, is doing everything she can to make sure that Kunal's wish can come true.
Kunal is a beneficiary of our Supplements and In-meals programme. From being severely thin at the time of diagnosis, he has gained weight and he is now only mildly thin. The nourishment, the counselling and the emotional support he receives helps him fight cancer treatment's harsh side effects and stay hopeful.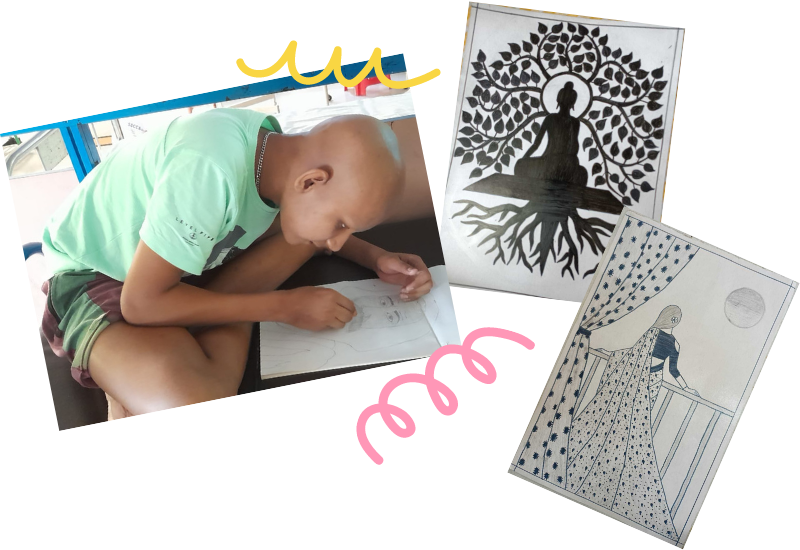 "Kunal needs a high protein diet to build the necessary muscle mass for his age. Kunal's parents were initially quite rigid in their views. I had to counsel them and earn their trust. I worked hard to help them understand the role nutrition plays in supporting a body's fight against cancer. I feel happy that I've managed to help them realise the importance of the diet plan", Moumita tells us.
Kunal's parents open up to us about their journey – "We were very shocked when we found out. We just couldn't believe that even children get cancer. After reaching the hospital and seeing many children fighting the same disease and gaining strength through Cuddles' support, we saw that we are not alone in this fight, and that cancer is curable."
Kunal's father provides for the family through his earnings as a singer of bhakti songs.
"It was very expensive for us to afford the supplements that our Kunal needed, and we are so grateful to have help from Cuddles."
For us at Cuddles, caring for a young teenager and supporting them on their way back to good health is a part of our mission that we take very seriously. Every month they spend unwell is precious time lost from the best years of childhood. And that's why our nutritionists like Moumita go the extra mile to build a nurturing friendship with them and their families.
"I want to join the Army in a few years. Soon, I'll be well, I'll complete my studies and then I'm going to be an officer. But first, I've got a date planned with the beach!" Kunal tells us hopefully.
We've got your back Kunal!