Solve the childhood cancer crisis in India.
Feed the fight. Partner with us.
Solve the
childhood cancer
crisis in India.
Feed the fight. Partner with us.
Beating childhood cancer starts with eating well.
Childhood cancer is mostly curable. But for children in India, it's a very different story. Lack of access to timely treatment and a 40% malnutrition rate among those seeking care is making survival difficult for our children.
children are more likely to stick with their treatment plan when nutrition is a part of it.*
of our patients improved or maintained their nutritional status despite cancer therapy.
Join the FoodHeals™ Partner Program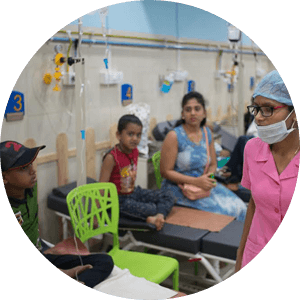 Sponsor one or many hospitals
Help provide a dedicated Paediatric Nutritionist + Food Aid to children seeking cancer treatment in a hospital or project area.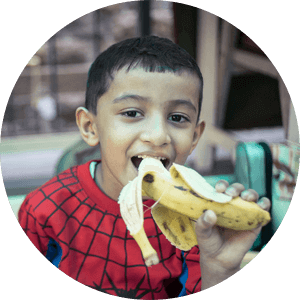 Sponsor nutritionist salaries or one of our food aid programs like ration bundles, supplements, hot meals, and in-meals.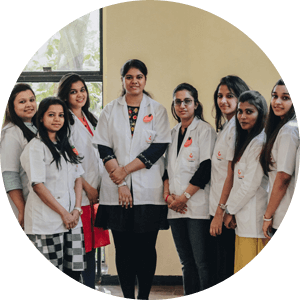 Sponsor upskilling of our frontline
Healthcare practitioners need regular upskilling in paediatric oncology nutrition and allied subjects. Cuddles Institute of Clinical Nutrition is a project dedicated to this mission.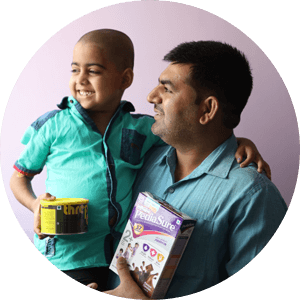 Do you have a warehouse lying idle, media space that you own, or do you manufacture packaged food and supplements? No gift is too small.
Optimum utilisation of funds
Quarterly reports on grant utilisation and aid deployment along with authentic field stories and photographs.
Quarterly field calls with hospital staff
Since donor visits to hospitals are paused due to the pandemic, we make sure you get to still interact with hospital staff every quarter over field calls.
Annual Impact Reports
We track our impact through our FoodHeals™ App. We also work seamlessly with CSR M&E partners like Goodera, Soulace, and Superhumans.
Audited Financial Reports
We are audited externally by Manohar Chowdhry & Associates.
Compliance is as important to us as it is to you.
We're part of a global consort of organisations that St. Jude Global Alliance supports through training and guidance.
As a member of a global consortium of organisations, we receive support and training from ALSAC.
This partnership empowers us to raise funds and create awareness, thereby enhancing our self-sufficiency and capacity to improve the quality of healthcare delivery. Ultimately, our goal is to increase the survival rates of children with cancer.
We're lucky to count on familiar faces to champion our cause.
Other ways to contribute.
Cannot sponsor a hospital or nutrition program? There are other ways through which you can help a child fight cancer.
Payroll Giving
Join companies like Google, Accenture, Mckinsey and Cactus Communications to encourage your employees to donate a little every month. We're also listed on popular payroll giving platforms like GiveIndia, Benevity, CAF India and Global Giving.
Matching Grants
You match every dollar donated by your employees or consumers via a memorable campaign.
Amplify the message of childhood cancer through a sustained 2-week social media campaign.
Event sponsorships
Sponsoring our fundraising events – virtual or otherwise – is another way to connect your consumers and employees with our mission.